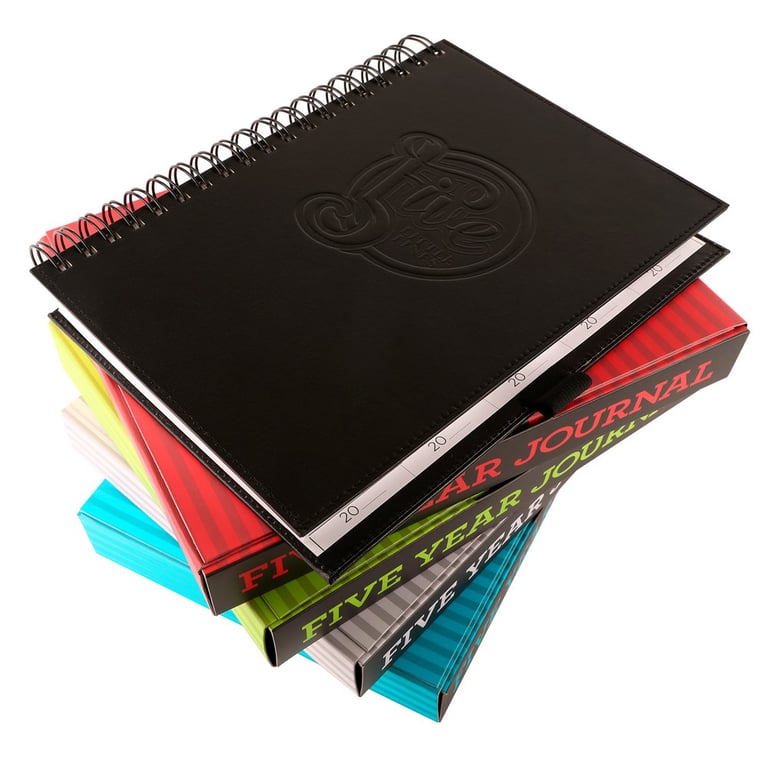 2 FIVE YEAR JOURNALS
This journal is a simple and easy way to record your history and leave your legacy. All it takes is 5 minutes a day and you're on your way.
With our unique Year Tab, you can write in whichever year you begin journaling and continue on for 5 years.
Page contents include a
Quick glance calendar,
Yearly resolutions and reflections,
Daily pages for entries,
25 Bonus Pages for entries longer than 5 lines,
Traditions for recording yours or your families yearly traditions.
The journal also comes with an elastic pen loop to keep track of your favorite pen.
Each journal comes standard with a black front and back cover and packaged inside one of our four designer colored boxes.
Package colors are:
Ocean Blue,
Tropical Red,
Lime Green &
Sea foam White
SPECS:
Internal Pages: 7" x 10" • 50# white paper.
Black hard cover with debossed logo and 19 ring coil binding
Cover dimensions: 7.28" x 10.07"
Back Cover dimensions: 7.5" x 10.07"
Elastic Pen Loop